April 3, 2010 at 2pm – COMCAST channel 55
VERIZON channel25
April 5, 2010 at 10:49pm – COMCAST channel 55
VERIZON channel 25
April 6, 2010 at 2:49pm –  COMCAST channel 55
VERIZON channel 25
April 10, 2010 at 7:49pm – COMCAST channel 57
VERIZON channel 27
OR
April 10, 2010 at 3:19pm – COMCAST channel 55
VERIZON channel 25
April 13, 2010 at 4pm – COMCAST channel 57
VERIZON channel 27
April 15, 2010 at 7am – COMCAST channel 57
VERIZON channel 27
April 17, 2010 at 5pm – COMCAST channel 57
VERIZON channel 27
April 19, 2010 at 4pm – COMCAST channel 57
VERIZON channel 27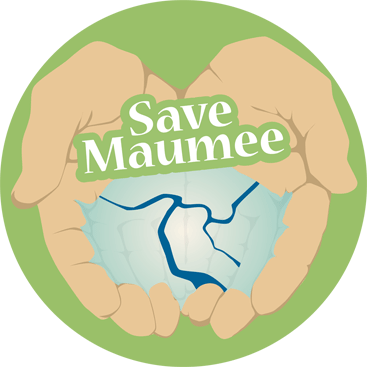 ~ Save Maumee 's 5th Annual Earth Day 2010 ~
~ SUNDAY April 18 ~
~ 11AM – 4PM ~
all ages ~ rain or shine ~  action & education ~ Free Fun 
HOW IT WORKS:
Please bring with you:
*  family and friends
(must have parent present if under 18)
* garbage bags / shovels
* muddin' shoes
* gloves
* ponchos
* your able body if you don't have anything on this list!
* Save Maumee will provide these things until supplies are gone!
We are establishing projects to clean up the Maumee River . These self-supported community projects will raise awareness about the condition of our local 3 Rivers and begin the slow process of reversing years of pollution.
**Sign in and REGISTER FIRST and listen/read any information being presented about your rivers in Indiana – please sign the liability waiver, or you cannot participate.  (just keeping the lawyers happy :))
See where to find the fun here:
http://www.savemaumee.org/upcomingevents.htm
Among other highlights to Celebrate the Fifth year of cleansing of your riverbanks & reclamation practices…(maybe after church?)
Kickoff at 11 AM ~ Partnership for Water Quality, Matt Jones to educate us about our rivers!
1pm

–

Rain Barrel

Demonstration by Lyle…
        ….DIRECTLY FOLLOWING RAINBARREL DEMO…
        *Enviroscape Demonstration on how OUR watershed works! – Grace Strahm
2:30ish – Save Maumee STOMP

– as we push all the soil down with our feet from the plantings!
3pm

– Soaring Hawk Bird Rescue Demonstration –
        ….DIRECTLY FOLLOWING Short Eared Owl / Red Tail Hawk demo…
        * Jain's Edible Herb walk & identification – wanna know what that plant is?
Other things happening all day ~
Throughout the day your LOCAL &  LIVE entertainment:
*Dave P., – Playin' Earth Day since 2005!
*The Wilderness – BACK for the threepete! 3X have we've enjoyed these guys!
*Sum MorMorz – Debut for Save Maumee !
*Gene Faron – Biologist will be showing you life from the water under a microscope
* Face Painting  – need volunteers here
*Andy's Horse Tours & Rentals – Horse Rides & Buggy on the Greenway – proceeds go to Save Maumee for 2011 but fee is primarily for transportation & food costs for the horses. PRICE POSTED call for reservations: Andrea (260) 350-7613 or (260) 562-3432
*Sports & Spirits bringing Pizza  –  SURPRISE TIME???
* Snacks from the Health Food Shoppe
* Coffee from Old Crown
* REUSABLE water bottles from ACRES Land Trust
You will be planting:
TREES from Soil & Water Conservation District & Forestry Service: River Birch, Burr Oak, Pin Oak, Red Maple, Swamp Oak, Willow (different native kinds coming in now)
 Planting Seed: – Planting Midwestern Prairie Grass Erosion Control Mix and a Riparian Seed Mix suggested by Earth Source Inc/Heartland Restoration & Save Maumee / Fox Island Seed Gathering's Seed
*A BLEND of : Big Blue Stern & Canada Wild Rye & Indian Grass & Switchgrass & Prairie Dropseed
*New York Iron Weed/Tall Iron Weed
*Bergamot/Monarda – plant plugs grown in Top Notch Tree Service Greenhouse
*Gray Headed Coneflower – plant plugs grown in Top Notch Tree Service Greenhouse
*Common Milkweed (for butterflies) – plant plugs grown in Top Notch Tree Service Greenhouse
*Common Evening Primrose – plant plugs grown in Top Notch Tree Service Greenhouse
*Yarrow –
*Mullein –
These retain deep tap roots that hold them in place when the area floods. (after 5 years of growth)  ALL these hearty plants are able to live through drought or flood due to their deep tap roots and are ideal for our riverbanks…it is even improving the areas plant species diversity!  Of course some need more sun than others…we will try to plant appropriately!
TRULY, THANK YOU!  This work could not be accomplished without YOU! We are all volunteers here!
Sidenote: We planted seed in 27 flats for Save Maumee on March 20th, 2010…if they are not ready we will NOT plant these flats on Save Maumee's Earth Day. One section of the 85% salvage & recycled greenhouse roof blew off so we did not plant early enough in the growing season.  We're concerned the plant plugs grown in Top Notch Tree Service/Save Maumee Greenhouse won't be big enough.   We want them to have a better chance as larger plants to live and work on your riverbanks.  A Girl Scout Troop from New Haven/Hoagland stepped up to plant them about mid-May!
  Not planting blueberries – These delicious fruits come from the East Coast  – We only plant the ones that were growing here naturally before humans introduced them from distant places.  Instead Save Maumee donors have purchased blackberries & raspberries – good for jelly AND are native to this area!
TO DATE YOU & SAVE MAUMEE HAS: -REMOVED 7.5 tons of GARBAGE from the Rivers and Riverbanks of the Fort Wayne Area -PLANTED over 740 trees 700 lbs of DNR approved native riparian seed installed over 10,000 sq ft of erosion control mats planted 50 native fruit trees harvested 27 lbs worth of seed and raised awareness SUCCESSFULLY! All money came from Grateful Groove Fundraiser, Alysen Wade Lexicon Event, The Wilderness Band Fundraiser, Earth Day 2009, Canoe Clean-Up 2009, Sports & Spirits Bar & Grill, Craig Thorne and Greg Konger! Namnaste to many small monetary donors!
100% donations from you go only to best management practices for naturalization of riparian areas – this is what grassroots organizing is all about!
How do planting grasses and seeds help?
HOLDS DOWN SOIL: The No. 1  POLLUTANT is siltation / erosion / sedimentation is the #1 pollutant in our watershed. 

Grasses help to settle out suspended sediment in the water to help hold down the soil that could be washed away because there is nothing to hold down the barren soil when the water comes rushing down during a rain event. 

Grasses filtrate sediment by holding water for a longer period of time so the sediment settles to the bottom instead of traveling downstream. 

Removal of nutrients from the water before it passes downstream. 

Plants produce enzymes which will absorb and "eat" bacteria 

Natural removal of chemical pollutants like fertilizers and waste materials removes nitrogen, phosphorous and toxins from surface water. 

Creating more shade helps to create Dissolved Oxygen that is needed in the water for fish and other wildlife to "breathe." 

Floods problems can be alleviated – grassy knolls and trees can capture, store and slowly release water over a longer period of time 

Protect shorelines through reduction of destructive energy from fast moving / rising water 

Alleviate pools of standing,

stagnant water

so West Nile will not have the opportunity to be passed on in the mosquito or human population
  ======================================================
Upcoming Event Calendar: 
YOU are NOT Powerless! ~ Voice visions & values more often and more loudly – SHOW UP in 2010!
Saturday September 18th  11AM – 4PM FORT WAYNE OUTFITTERS & BIKE DEPOT LOCATION  – Cass Street behind The Bean –
 – Free canoe rental for participants for the day with a photo I.D.! It will be too late in the season for plantings…but never too late in the season for garbage removal and free paddling!  Free Canoes with I.D. from Earth Adventure on Main Street & Ft. Wayne Outfitters
Save Maumee Seed Harvest at Fox Island : – Saturday October 2nd OR 24th 1 PM – 4PM at Fox Island (date may change due to harvesting availability and season changes for best pickin')
April 15 – Indiana State Senatorial Candidate Jack Morris will have his campaign kick off at Pint & Slice and plans to listen to Save Maumee's views on environmental issues.  Thank You for your positive environmental views Senatorial Candidate! He's bringing his truck to Earth Day to get the big trash on Dwenger Ave. & Glasglo Ave. –  The end of East Wayne area on the banks of the Maumee !
April 17 through April 22 Eagle Marsh Earth Week – check out their website for details  
April 20 – Camp Scott Constructed Wetland Walk –  8pm-9:30pm on Oxford St .

April 22  – Fort Wayne 's Green Business Initiative at the Grand Wayne Center
http://www.regonline.com/builder/site/Default.aspx?eventid=837348
April 23 – Green ABC's Debut from Waynedale Green Alliance at Anthis Career Center NOON – 2PM
http://www.fortwaynegreen.com/

May 1nd & 2rd  Sol-Fest at Fox Island – Celebrating the outdoors with food, music & sun.
http://allencountyparks.org/parks/fox-island/sol-fest-2008/
June 26, 2010 – Riverfest on the banks of the St. Joe at IPFW – check it out!  Fun includes a zip-line, hot air balloon ride, fireworks, live entertainment rivers. Come & Celebrate the positve things about our rivers!  –  Steele Dynamics Inc. is title sponsor for RiverFest, sitting at the table with Save Maumee shows their dedication to transparency and best management practice to improve the health and wealth of our rivers!
http://fortwaynehomepage.net/fulltext/?nxd_id=23485

July 24th – Upper Maumee Large Scale Clean-Up from Fort Wayne , Indiana to Defiance , Ohio – be part of the canoe fun! Still in the works – mark your calendar! 3 different launching spots so far with exit areas downstream and a party where all participants come together afterwards.  Currently we have secured places for launching in Fort Wayne , Woodburn , IN or near Defiance , OH ! More to come on this!
September 4th – Maumee Bay Tour – take a bus to Toledo , Ohio 's Maumee Bay and find out about the sediment load being deposited and removed from your waterways – call Jason Roehrig for interest or reservations (419) 782-8751  
September 25th – Scenic River Canoe Tour and Water Monitoring in Antwerp, OH – Call Jason Roehrig for details or reservations (419) 782-8751
FRIENDS! 
Jerry Hay, Author – A partner in river information sharing was left off the website! SORRY JERRY! We will fix this very soon! Lots of river information & maps here  http://www.riverlorian.com/riverslist.htm
     &
Save Maumee Grassroots Org., Healing Our Waters, Save the Dunes & Indiana Wildlife Federation – Our coalition of groups from Indiana descended upon Capitol Hill to ask for support of Great Lakes Restoration Initiative funding to; aid in stopping invasive species (most notably Asian Carp), cleaning up toxic sediments, stopping polluted runoff, preventing beach contamination, restoring degraded wetlands and protecting fish and wildlife resources.  Congressional action is needed on several regional priorities. Too much time has been spent avoiding issues. We met these activists during February's Clean Water Week in Washington D.C.   Bruce Allen & Abigail Frost represented your waterways in north-east Indiana while meeting personally with the offices of:
Senator Richard Lugar
Representative Mike Pence
Representative Brad Ellsworth
Representative Andre Carson
Representative Baron Hill
Representative Mark Souder
Information packets were received by:
Representative Peter Visclosky
Representative Joe Donnelly
Senator Evan Bayh
Fort Wayne Mayor Tom Henry was even there! Meeting with Mark Souder! 
Monthly Meetings:
Upper Maumee Watershed Partnership – A monthly stakeholder group for the Maumee River that includes 4 counties between Ohio & Indiana
http://www.uppermaumeewatershed.com/
Friends of the Rivers – A monthly stakeholder group that wants to be your friend~river lovers! Ultimate goals include making our rivers swimable and cleaner than they are now! ~NICE~ Call Dan Wire (260) 580-7415 to get involved or http://ipfwriverfest.org/
===============================
 Why Save Maumee chooses Earth Day?
          "So long as the human species inhabits the Earth, proper management of its resources will be the most fundamental issue we face. Our very survival will depend upon whether or not we are able to preserve, protect and defend our environment. We are not free to decide about whether or not our environment "matters." It does matter, apart from any political exigencies. We disregard the needs of our ecosystem at our mortal peril." ~
~~ U.S. Senator & Congressman Gaylord Nelson ~ Earth Day Founder [EPA JOURNAL, April 1980]